Emojis are everywhere. In 2015, the Oxford English Dictionary made the 'laughing crying' emoji its Word of the Year.
In 2017, there was even a film dedicated to the adventures of the little characters in our phone. But has it become acceptable to use an emoji in an email subject line?
Research in late 2017 by Econsultancy found that, overall, about 5% of global email subject lines over the previous 12 months had contained an emoji or other 'word-based linguistic construct'.
Of these 5%, about 1,500 different emojis were used. The most common were: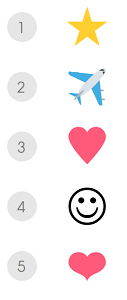 One of the problems with trying to determine the effectiveness of using an emoji is that it's hard to measure, as subject lines are made up of thousands of individual components. So, Econsultancy designed a scientific test. Here's the rationale:
"Over the course of 14 campaigns, 10 randomly selected groups (about 50,000 in size each) received one of 10 different subject lines over 14 sends – five without emojis, and then the same five with emojis. This allowed us to test 70 different emojis across thousands of people."
The results show two mixed outcomes:
When emojis work (about 60% of the time), they spike open rates by about a quarter of a standard deviation.
When emojis don't work (about 40% of the time), they decay response by about the same amount.
The conclusion of this research is quite simple:
Using an emoji makes a bad subject line worse. Or,
Using an emoji makes a good subject line better.
The effectiveness of emojis really depends on how good your subject line already is. If it's spammy, generic and salesy, adding an emoji probably contributes to making it worse.
If your subject line is good and the emojis are contextually relevant, they make it better.
Clear? ♥ ☺ ☼ ¿ ♫