With 3.8 billion active social media users documented at the start of 2020, these platforms are the key to connecting people across the world, but we could never have predicted the lifeline that they are providing many people during this time when being physically close is not an option.
We previously touched on the effect of the current pandemic on social media activity, demonstrating how time spent at work and socialising would usually reduce our engagement online. However, in order to make the most of this increased screen time, you need to consider what your followers need during this time, which may not always align with your own business plan.
Here are very own Hannah Armstrong, guides us through this unusual situation…
Sensitivity
In this uncertain time, the moves companies make both online and offline in response to the situation are incredibly important, as evidenced in the below political campaign courtesy of Led by Donkeys. Amidst the initial chaos when stricter measures were introduced to the British population, changes in demand for certain products and services led to companies making decisions which negatively impacted their staff and customers. With social media providing a platform for billions of people to publicly share their opinions, the news of these decisions was able to spread even faster, resulting in a lot of negative publicity for the companies involved.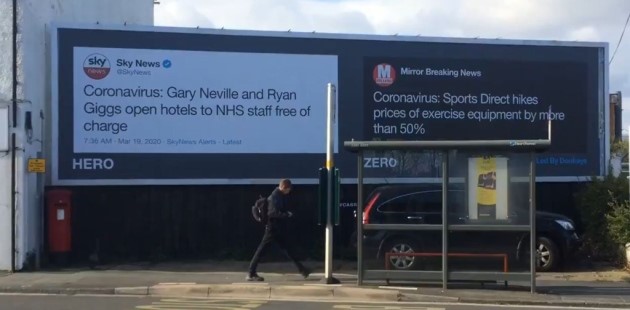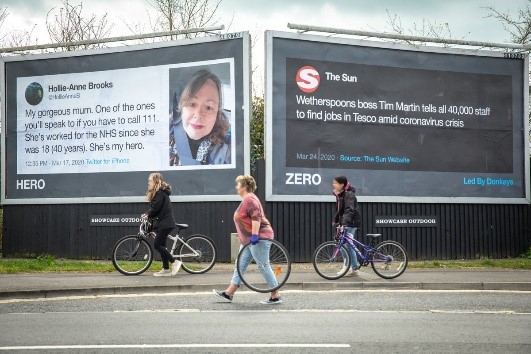 Image source: Twitter
Source: Instagram
On the other hand, brands have been showing their support for the frontline workers in their own unique ways to demonstrate their appreciation for their hard work. Pret a Manger were one of the first companies to offer NHS workers free items and heavily discounted goods, closely followed by many other mainstream brands including Deliveroo and ASOS. By sharing the news of this promotion on their social channels, not only were they able to utilise WOM communication, but in doing so they were able to position themselves more positively in the minds of their audience, which will likely be rewarded in their future custom.
Knowing how to change your social media strategy during a time like this relies on knowing your audience and being empathetic to their situation, meaning prioritising it over and above your own. Understanding their immediate needs and being able to pivot in order to meet them will enable you to build a stronger relationship with them which will endure long after the crisis is over.
Responsibility
The current events have been a huge lesson for a lot of brands in striking the right balance between acknowledging what is happening in the world and providing an escape for their audience. Large followings on social channels bring with them a greater amount of responsibility, so using your platforms to spread positivity and promote safety should be another of your main priorities. Coca Cola demonstrated this perfectly in their announcement on Twitter, stating that their platform of 3.3m would be used to spread awareness of safety procedures that could save lives.

Source: Twitter
In a similar fashion, other world-leading brands have creatively incorporated the message of social distancing into their marketing campaigns, once again promoting the importance of safety measures and emphasising their bid to help the world in combatting the virus.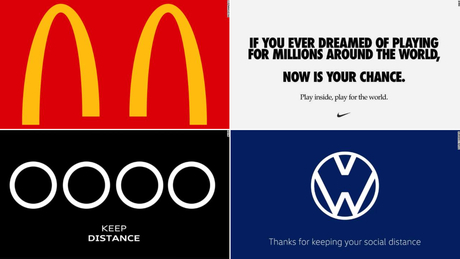 Source: CNN Business
Despite the many positive uses of social media during times such as these, platforms also have a responsibility in helping users to decipher between facts and fake news, with brands also needing to take on the role of not allowing rumours to spread any further. With people grappling for as much information as possible and therefore being susceptible to false and potentially hazardous claims, it is important that any material you share comes from a reliable source, meaning cross-checking it against government websites and high-quality news channels to ensure its accuracy.
Community
With online interactions being the only means of communication for a lot of friends and families, people of all ages are embracing social media to stay connected, with those living on their own relying on online communities as a way of combatting both literal and emotional isolation. For this reason, treating your following like a community and offering support as well as ways for them to feel connected may be extremely beneficial for not only your customers, but also your brand.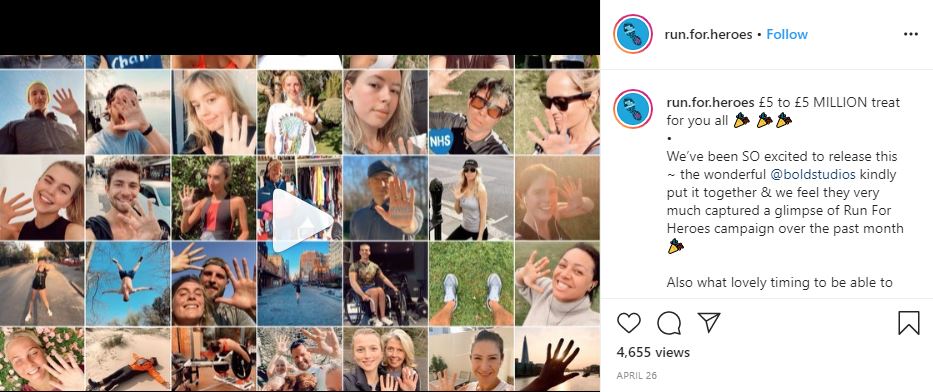 Source: Instagram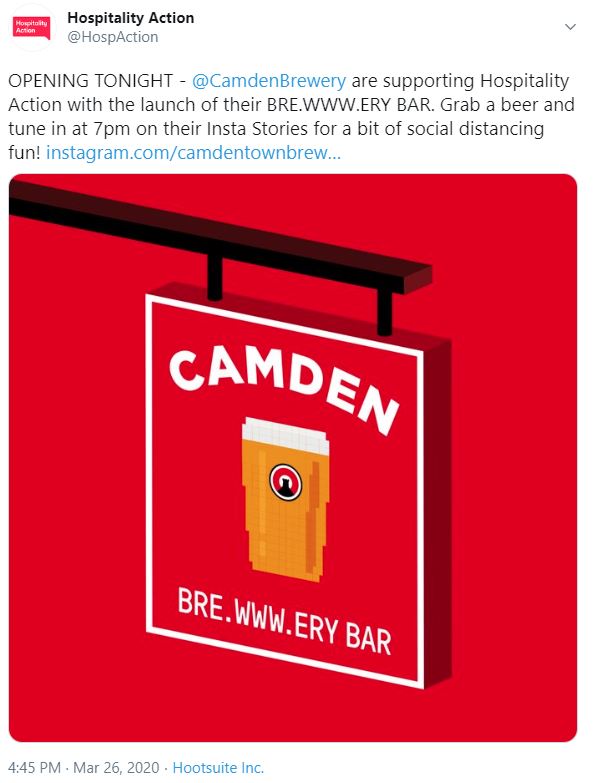 Source: Twitter
We've seen a lot of companies taking to social media to provide free resources such as fitness classes and academic courses, giving people set times to feel like they are part of something or giving them a goal to achieve during lockdown. In addition to this, brands have utilised online communities through fundraising efforts such as Virgin's @runforheroes campaign, asking participants to 'Run 5k, Tag 5 friends and Donate £5 to the NHS, as well as Camden Brewery's 'BRE.WWW.ERY bar' which gathers people together for an online quiz to raise money for those in the Hospitality industry who have been affected. Whilst providing people with a mental escape from isolation by taking part in these classes and challenges, efforts like these will not only raise awareness of your brand and services, but will likely strengthen customers' opinions of you and the support you offered them, which will benefit your relationship in the future.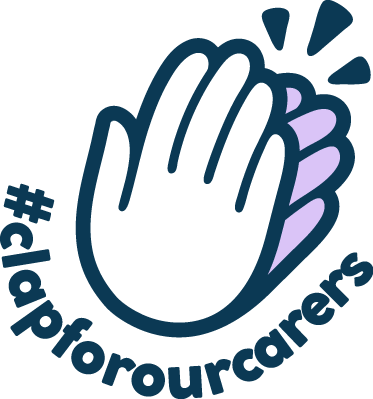 Source: Clapforourcarers.co.uk
However, not all efforts need to be as elaborate as these, as one of the best examples of the power of social media at a time like this comes from the humble idea shared via social platforms which has now become a weekly ritual for people across the country. #Clapforourcarers started out as a post shared by Annemarie Plas across Whatsapp, LinkedIn, Facebook and Instagram, which quickly gained traction and has since united a nation in this very simple movement. Without costing a penny, this campaign captivated the hearts of the population and demonstrated how important being part of a community can be in a time when people feel more disconnected than ever.
With more information being generated and consumed, it is important to consider how our actions will be interpreted by a larger and more diverse audience and therefore act accordingly. This is the time that consumers look to organisations for their support and guidance, therefore being able to deliver this to your customers, whether that's through engaging conversations, relevant advice or a way of escaping from the current uncertainty, you will be able to come out of the current crisis much stronger.