Scarcity marketing is a strategy based off the fear of missing out. We want what we can't have – it's a psychological phenomenon.
The harder, rarer or more limited an item is to obtain, the more our subconscious wants it, and this builds a sense of urgency in us to act because it appears to be more valuable.
If scarcity wasn't brought into the equation, it's likely that the item would remain unbought because you believe there's an abundance and you have all the time in the world to purchase it.
Why are we like this? Our primal instincts are those of survival, so when we notice something diminishing, our minds think about it more. These primal instincts lessen our abilities to make decisions and we crave to have this something.
Scarcity in marketing
Brands use scarcity tactics all the time, and the chances are, you've been persuaded to purchase something because of them. Perhaps you've been told that the sale is only for a limited time or the item you're looking at is in short supply – we've all felt the pressure from these notifications.
Different types of scarcity marketing
Cart reservation
On ASOS, you will notice that the items you place into your shopping basket will remain reserved for 60 minutes so other customers will not be able to purchase them, but this also means that you have 60 minutes to make your payment. If you don't make a payment within the 60 minutes, your items will be moved to Saved Items, where the stock will be replenished for others to buy. This means if you're not quick enough, you might just lose whatever you had your eye on.

Countdown timers
End-of-sale dates are somewhat effective, but countdown timers are even more so. When a customer watches a timer tick down, they feel a sense of urgency which boosts engagement by encouraging them to act immediately. And if they were to close their laptop or put their phones down, they will be reminded of the countdown timer when they see a clock or check for the time.
You will find that a lot of ecommerce websites will use countdown timers to get rid of seasonal goods – and who can't act when they can see that time running out!
Flash sales
Amazon lightning deals are a great example of a flash sale – it's a promotion where predetermined stock is discounted for a short period of time. Amazon lightning deals have a status bar that shows how many people have already claimed the deal and a timer showing you just how long you have left to add the item to your cart and checkout with the big discount. You can't see exactly how many products there are left to purchase, only the percentage of stock that's left up for grabs.

These time-sensitive deals are a great way of selling bigger volumes of stock. It's ideal for a product launch for example, as you can boost your brand awareness and get people using your product, telling others about it, and leaving a review.

As for people who miss out on the deal, they may add your item to their wishlist or continue to research your brand to find out what it's all about.

Limited quantities and product drops
The opposite of Amazon lightning deals, limited quantities and product drops are another way of applying the scarcity principle, but in this case, you are told just how many products are up for grabs. This tactic works particularly well if the item is limited edition or there's a limited amount of product.

Let's say there's a trainer brand that tells their audience there's 100 limited edition pairs of a particular shoe that will never be manufactured again, and they will be up for sale next week at 6pm. The audience is likely to respond well because not only do they like said trainer brand, but they see the value that lies in the uniqueness of the trainer, giving them a powerful urge to buy. This is called a product drop – you've probably seen fashion giants such as Adidas do this!

On the Adidas website, you can set a reminder for when their new trainers are released, so you don't miss out: https://www.adidas.co.uk/release-dates.
Limited stock
Showing how many items are left in stock might make you consider how quickly you react to adding this bottle of gin to your basket – especially if you've found it at a good price. So, here it's telling you there's only 22 left in stock, but do you really know how long that might take to sell out? It could be weeks – it could be that day. So, what the purchase depends on is the number left and the availability of the item in other retailers, as this could influence whether you purchase it there and then, or leave it a while and check back later.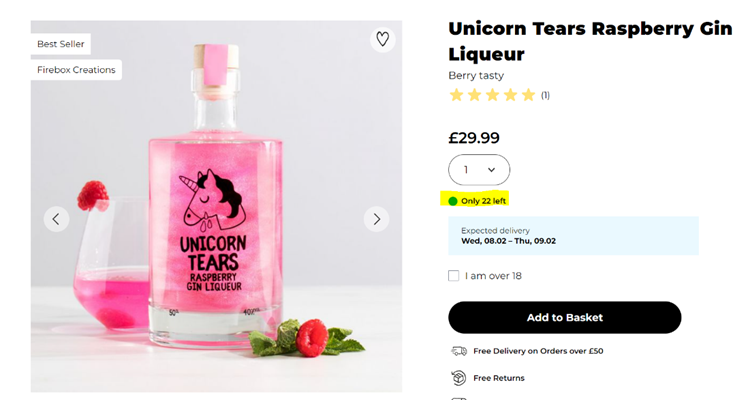 When applying the limited stock tactic, you don't always need to say exactly how many items are left in stock, an 'almost gone' might be just enough ambiguity to make you think you could miss out if you don't act now.
Urgency in copy
Carefully crafted copywriting is a great way to create urgency with your audience, and you can do this via your website, emails, app, and other marketing materials.
Here's an example:
"Our spring stock sold out in five hours!
Luckily for you, new stock will be here next week.
Leave your email address and we'll message you as soon as the stock is back in, so you don't miss out!"

Responsibly using the scarcity principle
When using the scarcity marketing principle, it's important to remember that you do not want to be tricking or luring your customers in with a false sense of scarcity, you must use it wisely. If you use scarcity carelessly, you could end up with disgruntled customers who might never choose to shop with you again.

To avoid hurting your brand, here's what you need to consider before applying scarcity:
Don't do it regularly –do it too often and you will lose impact. What's more, you don't want your buyers to feel remorse for their purchase, so use it wisely, and only use it for a highly desired product.
Scarcity isn't your go-to for poor sales – realised there isn't a demand for a product? Don't carelessly use the scarcity principle, if it's not selling well anyway, chances are, your customers just aren't that into it.
Have a reason for applying scarcity – think about why you want to apply scarcity, you won't sell more if there isn't a reason, a customer desire for it or a special deal. Think about why customers want it and how scarcity could help the undecisive to decide.